An important skill to have when building your Air Jordan collection is to be able to tell the difference between a real and fake pair of Jordans by simply looking at them. One of the key differences is the coloring of the shoe. Typically with fakes you will find that they are not quite able to achieve the same richness in color as authentic pairs. This becomes very apparently when looking at blacks and whites on the shoe. It is fairly common for fakes to have a yellowish ting to the whites and the blacks are a lot deeper on authentic pairs. Another thing to keep in mind is how the shoe is presented.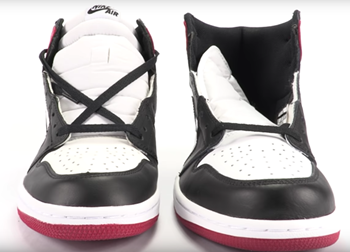 When looking at the image above you will notice one pair of Jordans has crossed laces while the other just has the laces mostly hidden with one point of connection down the bottom. The fake Jordans in this example are the ones on the left. This is because the sellers of the fakes will try and present the shoe in a manner that they think displays the shoe in a proper fashion whereas the authentic pair shoes the shoes in their natural state. This isn't the main thing to consider as the sellers of the fake shoes might learn about this mistake but it's something to keep in mind if the shoes you purchase come presented in the same style as the ones of the left.
You will also notice in the image above that the red sole near the toe of the shoe is inconsistent with its sizing whereas the authentic pair has a uniform sole that goes around the shoe. The best way to ensure that you are purchasing authentic shoes to only use sites that are willing to show multiple pictures from different angles and to compare those pictures to pictures from sites like stock x or verified. While looking through these images also keep an eye out for any minor peaks like the little bump that can be seen on the toe box of the fake shoes (as shown above).
Look for cheap air Jordan and Jordan shoes but not for fakes.