There are loads of different types of jeans out there these days; unflattering skinny fit ones that get uncomfortable in hot weather, baggy jeans that reveal your underpants to the world and those irritatingly low crotch jeans that stretch out your belt hoops. If you're looking to buy a really nice pair of jeans for your boyfriend or husband, which are the right side of vintage without looking old fashioned, then I think I have the solution.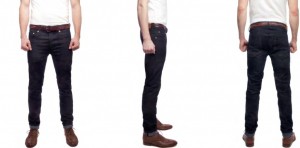 Over in the UK a new company called Gaolhouse denim (gaolhouse is the UK spelling of jailhouse – it's pronounced the same way) have worked in collaboration with Her Majesty's prison service to get inmates making a new kind of raw denim jean for men. Gaolhouse jeans have a tight looking fit around the ankles and calves but open up for more room around the crotch area so they don't pinch. Best of all, they are made from raw denim, which means that after wearing them for a couple of months, the jeans will take on a unique shape that matches that of the wearer. The lines of wear will reflect the wearer's body type and compliment it. They look kind of like the jeans cowboys would wear if they were British hipsters.
Manufactured entirely in the UK by prisoners, the jeans also provide a means for criminals to give something back to society and learn skills they can use outside when they are released. If you can get a pair, then you are lucky, because right now this is a small company. I really admire the way that they keep everything ethical, instead of relying on sweatshop labour to keep costs down. Most jeans manufacturers these days need translation services just to communicate with their workforce. If you buy Gaolhouse denim, you're not just buying a really well made pair of sexy looking jeans, you're contributing to a grassroots start-up with an ethical business model and I think that's as cool as the cut of these jeans.
You can find out more or order a pair on their website:
www.gaolhousedenim.com